ABOUT THE MONO AWARDS

THE COMPETITION
Now in its sixth year, The Mono Awards, presented by SanDisk, is dedicated to the art of black and white photography. The competition is hosted by Australian Photography and Capture magazines.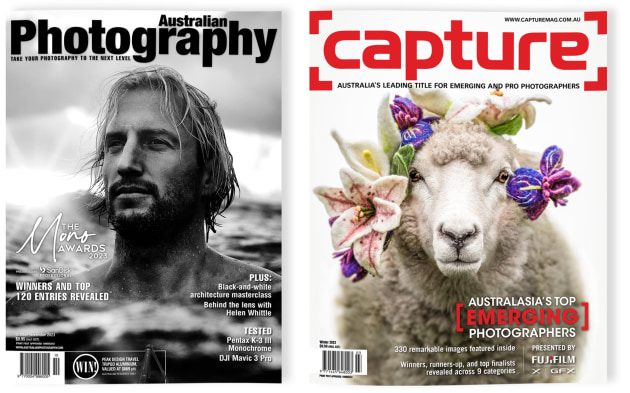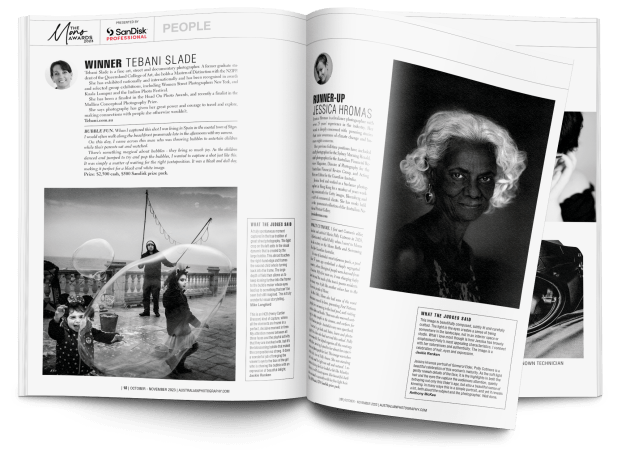 WHO CAN ENTER?
The Mono Awards is open to allphotographers.
WHAT IS MONO?
Images entered in The Mono Awards competition must be black and white or monochrome. For the purposes of this competition a black and white image is defined as one that only includes shades of black, white and grey. A monochrome image may only include shades of one colour, such as a sepia image. Images with more than one hue, such as split-toned, spot-colour, or colour images are not eligible. Images may be converted from colour to black and white or monochrome in post-production. Images may be captured digitally or on film.
Australian Photography magazine's 2023 Mono Awards special, published in October-November 2023.

IMAGE PREPARATION
• Images must have been captured on or after 1 January 2022. 
• Images must be in JPEG (.jpg) or PNG (.png) format and should be at least 2500 pixels on the longest edge. Image file size should be no larger than 5MB.
• Do not include watermarks, logos or any other branding on your images.
If you have any problems uploading your entry please email us at [email protected]. During work hours we'll try to get back to you the same day.
CATEGORIES
There are three categories in The Mono Awards: People, Places, Animals. You can enter one or more categories as many times as you like. For more information about the categories check the terms and conditions.
Images must be wholly photographic in origin. Images created wholly or in part with the assistance of artificial intelligence, 3D, or illustration processes may not be entered.
TERMS & CONDITIONS
You can find our terms and conditions here. The terms and conditions contain important information about the competition – please read them before entering. Our terms and conditions have been approved by the PhotoWatchDog, the advocate for fair photo competitions in Australia. 
PRIZES
Winners, Runners-Up and People's Choice will share in a total prize pool of $13,500, including $10,000 cash. For more information about prizes click here.
ENTRY PRICING & DEADLINES
Early Bird: 2 February to Sunday 24 March 2024
$25 per entry 
Standard: 25 March to Sunday 28 April 2024
$30 per entry
Last Minute: 29 April to Sunday 26 May 2024
$35 per entry
Entry prices in Australian Dollars (AUD). 
RESULTS
Winners, runners up, and Top 30 entries in each category will be published in Australian Photography (Oct-Nov 2024 issue, available mid September 2024) Announcements will also be made online at australianphotography.com, capturemag.com.au and themonoawards.com.au in September 2024.
Certificates will be emailed September for entries that receive Commended, Highly Commended, Top 50, Top 40, Top 30, Top 20, Top 10, Runner-up or Winner awards.
Following the winners' announcement, People's Choice judging will begin. This will be conducted on The Mono Awards' Facebook page where the Top 30 entries from each category – People, Places, and Animals – will be listed. Anyone is welcome to vote for their favourite images. Voting will be open for approximately two weeks. The image with the most likes, in each category, will be named the People's Choice winner and will be notified by email.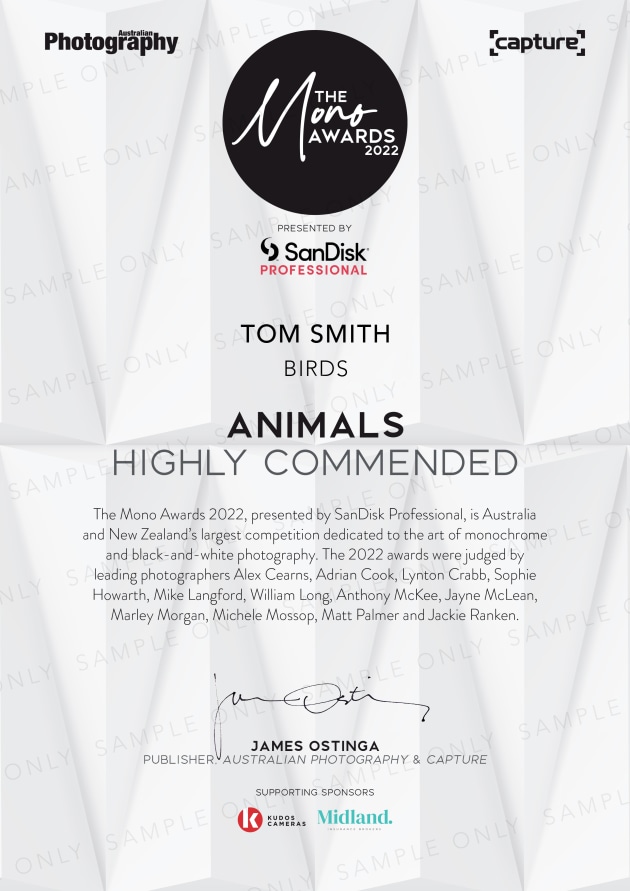 ABOUT US
The Mono Awards launched in 2019. The competition is run by Yaffa Media Pty Ltd, publisher of Australian Photography and Capture, Australia's most trusted photography media brands.
GOT A QUESTION?
Email us at [email protected]
| | | | | |
| --- | --- | --- | --- | --- |
| MAJOR SPONSOR |   |   |   |   |
| |   |   |   |   |